Description
 Late Pledge from Instant Encounters campaign https://www.kickstarter.com/projects/hexy/everyday-adventure-printable-encounters-5e-pdf-and-3d-stl/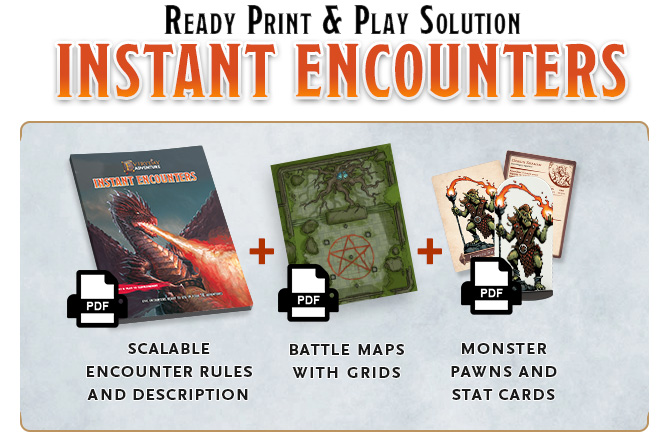 Instant Encounters are ready to print and play encounters for your homebrew 5E campaigns. Thanks to this module, you will run epic battles which your players will remember for a long time. Detailed descriptions and scalable challenge rating will allow you to customize the encounters and adjust them to your players' experience and their characters' levels. Every monster used in our encounters is represented by a colorful pawn and a 3D miniature. They can be printed at home in any number needed for a specific difficulty level. Large maps will bring your battlefields to life, and handy stat cards will let you avoid searching the bestiary during the session.

Essential Bag
The reward includes PDF files allowing you to fully prepare all encounters presented in the campaign. NOTE: Only digital content - no physical items.
INCLUDES:
Legends of the Grim Forest Set (PDF Encounters rules)
The Dun Mountains Trails Set (PDF Encounters rules)
Forsaken Sands Set (PDF Encounters rules)
Pawns (PDF)
Stat Cards (PDF)
Battle maps (PDF)
PLEASE NOTE THAT THIS PLEDGE DOES NOT INCLUDE STL FILES!